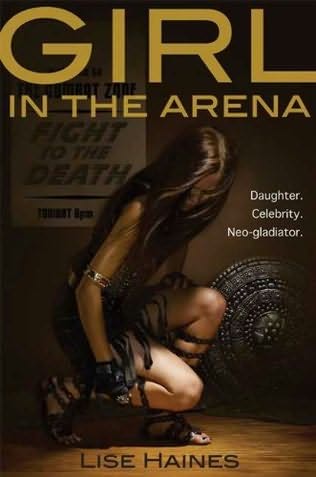 Girl in the Arena by Lise Haines
Publication Date: August 17, 2010
Versions: hardcover, paperback, kindle
Summary (from goodreads):
Lyn is a neo-gladiator's daughter, through and through. Her mother has made a career out of marrying into the high-profile world of televised blood sport, and the rules of the Gladiator Sports Association are second nature to their family. Always lend ineffable confidence to the gladiator. Remind him constantly of his victories. And most importantly: Never leave the stadium when your father is dying. The rules help the family survive, but rules-and the GSA-can also turn against you. When a gifted young fighter kills Lyn's seventh father, he also captures Lyn's dowry bracelet, which means she must marry him...For fans of The Hunger Games and Fight Club, Lise Haine's debut novel is a mesmerizing look at a world addicted to violence-a modern world that's disturbingly easy to imagine.
At first I thought this author copied The Hunger Games just from the title: Girl in the Arena. And that is exactly why I picked it up because I would love to read a different kind of version of The Hunger Games. But to tell you the truth-it wasn't very similar but had a lot of unique characteristics that lead it to be a good book. Lyn has had a total of seven gladiators as fathers-and Tommy, is her favorite. But when Tommy has to fight a well known great fighter-Lyn can see his worry so she lends him her dowry bracelet for good luck. Dowry bracelets can only be held by their fathers and if another man touches it then you are set to get married-according to the Gladiator Sports Association. So it comes to a surprise when Uber, Tommy's competitor, kills him and puts on Lyn's bracelet. She either has to marry him, even though she's never wanted to be a glad wife or fight him...
I can definitely say that this is the first gladiator book that I have ever picked up to read. But I loved all the characters that Lise drew up in the book-Lyn being my favorite. She didn't care what she looked like and even cuts off all of her hair in one of the scenes. I thought she was very strong and loyal and I loved all her quirky characteristics and snappy attitude.
Will I reread it?
I might have to, the plot line keeps you turning pages and the love (yes there is some love) was well played out and realistic. I urge you to pick this book up and give the world of gladiators a try if you haven't done so already.