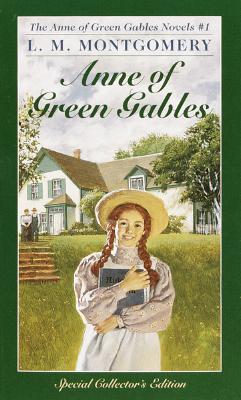 Anne of Green Gables by L. M. Montgomery
Versions: hardcover, paperback, kindle, audio
Other Books in the Series:
Anne of Avonlea
Anne of the Island
Anne of Windy Poplars
Anne's House of Dreams
Anne of Ingleside
Rainbow Valley
Rilla of Ingleside
Summary (from goodreads):
When Marilla Cuthbert's brother, Matthew, returns home to Green Gables with a chatty redheaded orphan girl, Marilla exclaims, "But we asked for a boy. We have no use for a girl." It's not long, though, before the Cuthberts can't imagine how they could ever do without young Anne of Green Gables--but not for the original reasons they sought an orphan. Somewhere between the time Anne "confesses" to losing Marilla's amethyst pin (which she never took) in hopes of being allowed to go to a picnic, and when Anne accidentally dyes her hated carrot-red hair green, Marilla says to Matthew, "One thing's for certain, no house that Anne's in will ever be dull." And no book that she's in will be, either.
If I had to pick one book that I completely adore and go to from time to time, I would have to say that this is at the top of the list. Anne of Green Gables is about the Cuthberts who have decided to adopt a boy to help out with the farm work. But along the way something goes awry and a girl named Anne comes home with Matthew instead of the awaited boy. At first Marilla isn't pleased especially when Anne gets into so much trouble-but soon Marilla finds an attachment to her. What adventures will Anne get into next?
Anne is one of those characters that everyone likes, with her red hair, freckled face, and skinny physique. And she gets in lots of scrapes including bad cooking, dying her hair, breaking a slate over a boys head, and much much more. I can never put this book down without wanting to pick it right back up. And if you are one of those people who love romance, there is some in this book-a love/hate relationship which progresses through the different books in the series.
Will I reread it?
Yes, I already have and probably will a lot more times. This is one of those memorable books that you can't stop thinking about. And if you aren't much into reading-there is also very good movies based off of the books starring Megan Follows-which I highly recommend.