Today I have the lovely author of Heartbroken Promises 2, which is Sherry Shumard, here for a stop on her virtual blog tour. I am going to post the summary of the book and tell you a little bit about Sherry and then post her guest post, about the inspiration behind her book and road to publication, at the bottom.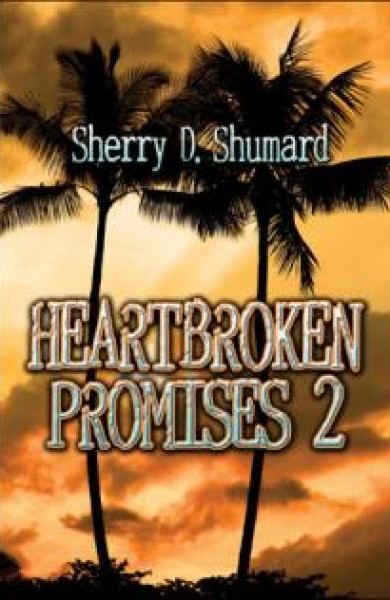 Heartbroken Promises 2 by Sherry Shumard
Publication Date: February 25, 2008
Versions: paperback
Summary:
Vicky Wainright decides to visit Jake's Island so she can be close to her sister Miranda. She is offered a nanny job by Jordan, a very handsome and eligible bachelor who is raising his son by himself. She meets her sister's waiter Noah and is quickly torn between loving him and Jordan. She gets kidnapped while babysitting along with Jordan's son Derrick and her sister believes that Noah was one of the kidnappers. How will she feel about Noah after she finds out the truth? Will Derrick and her be rescued or killed?
Here is an excerpt from the book:
"Well, I don't care about him and he can propose to someone else for all I care," she said fighting back the urge to cry. "All he thinks of is only one thing anyway," she said. "And that's sex!"
Miranda laughed. "Most guys do but that isn't the reason not to marry a guy, "she said looking at her sister. "You're just young that's all," she stated. "Come on," she said tugging at her arm. "We're going out for supper."
"Supper...but what about lunch?" she asked surprised. Miranda laughed. "You slept through lunch silly," she said tugging on her arm. "Come on...let's go..." she said pulling her toward the door.
About Sherry Shumard
I love to read and write books. I'm the published author of a series of books titled: Heartbroken Promises, Heartbroken Promises 2 and I'm currently working on Heartbreaking Promises 3. The books are available on www.amazon.com, www.booksamillion.com and www.bn.com just to name a few. I plan on writing many more books since I have a lot of ideas on what I want to write about. My dream is to someday soon see my books come to life as a movie or a television series-That would be great if it did happen. I'm married and have 3 children and 2 pets.
And then here's her guest post:
The inspiration behind the Heartbroken Promises series was due to the heartache that I felt after being cheated on when I was sixteen years old by my boyfriend and also about my experience as a runaway. The title says it all: Heartbroken Promises. When I was sixteen years old I decided to run away from my unstable home and from my cheating boyfriend so I bought a one way ticket to Jekyll Island. I got so far South from Illinois as Columbia, South Carolina and never made it to Jekyll Island. I would love to go there someday soon to see the island and to find out why I chose that place. It was chosen from a page in a library book. I pictured myself working on the island and also relaxing on the island with no cares in the world. That was very unrealistic because in real life there's always worries and finding a job can be difficult when you're only sixteen years old.
In my first novel Heartbroken Promises, the main character Miranda Wainright is actually me running away from a cheating boyfriend and taking a job in a hair salon on Jake's Island aka Jekyll Island. She meets avery handsome man named Jake Lee Jamison on the bus trip to the hair salon. Her ex boyfriend follows her to the island and tries to win her back. She falls in love with Jake and marries him. A fairy tale come true.
In my second novel Heartbroken Promises 2 the main character is Vicky who is Miranda's sister. I named the character Vicky because that is what my sister is named and she died when she was five months old due to pneumonia. Vicky moves to the island to be close to her pregnant sister Miranda and gets entangled in a love triangle with Noah-her sister's butler and Jordan who is Jake's brother. She takes a job as a nanny to Jordan's infant son Derrick and is kidnapped along with little Derrick. Someone from Jordan's past is the kidnapper and also there is a suspicion that Noah is involved. She gets pregnant and has a tough decision to make whether she wants the baby or not. Things get more complicated when Jordan proposes to her on the beach.
The road to publication wasn't easy. I self-published my first novel Heartbroken Promises through iUnivers.com because it was just easier and faster than a traditional publisher although I did have to pay for the publishing process. With my second novel I submitted a few chapters to PublishAmerica and they immediately accepted the manuscript but did give me a deadline to try and finish it. I was so excited to finally have a publisher pay me and also to incur all costs associated with the publishing of the book. I was making progress in the publishing world.
I've taken classes for college credits and decided that if I could write pages and pages of essays, then I could most certainly write my own books. I'm a very avid reader and have always been ever since I could read. I grew up reading Nancy Drew mystery stories and then after I ran out of them I did read some of the Hardy Boys mystery stories. It is my goal in life to keep writing books because I love creating characters that my readers will either love (hero/heroine) or hate (villain). The stories come to me naturally because I have a vivid imagination and I'ma daydreamer and a romantic.
I'm married with 3 teenage children and I work full time and write part time on my many ideas for books. My dream is to see my characters come to life either in a movie or a television series. That would be so exciting that I would just cry happy tears.
Thank you so much, Sherry, for visiting my blog. You can buy Heartbroken Promises 2 on Amazon.com
here
.