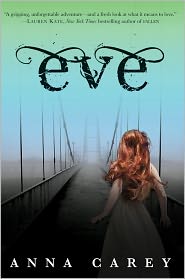 Eve by Anna Carey (ARC)
Publication Date: October 4, 2011
Versions: hardcover, kindle
Summary (from goodreads):
The year is 2032, sixteen years after the deadly virus-and the vaccine intended to protect against it-wiped out most of the earth's population. The night before eighteen-year-old Eve's graduation from her all-girls school she discovers what really happens to new graduates, and the horrifying fate that awaits her.
Fleeing the only home she's ever known, Eve sets off on a long, treacherous journey, searching for a place she can survive. Along the way she encounters Caleb, a rough, rebellious boy living in the wild. Seperated from men her whole life, Eve has been taught to fear them, but Caleb slowly wins her trust...and her heart. He promises to protect her, but when soldiers begin hunting them, Eve must choose between true love and her life.
Eve by Anna Carey is a brilliantly written novel that sticks with you after hours of reading. Eve is happy at school with her two best friends especially now that she's graduating from her all-girls school. She even receives the award for being one of the best students. But one night a rebellious girl that Eve's never really liked tells her the truth about the graduates. At first she doesn't believe that her whole life's been a lie, but when she see's for herself what they do to the graduates, she knows she needs to leave. So she sets off on a long journey to Califia, where she'll be safe from the hunters and police. On the way she meets Caleb who shows her what life and love truly is.
I've read numerous dystopian novels, so much that now I'm kind of sick of them. They all have the same formula and morals to the stories. The formula includes: a female character who has been lied to her whole life, then she usually escapes, meets a boy who teaches her what life is really about, usually they fall in love...etc. I'm not saying every dystopian novel has this formula but many do, including Eve. So I guess I was a little disappointed once I finished the novel-which ends the same as every other dystopian novel does.
Will I reread it?
Yes, when the sequel (yes, there will most likely be a sequel) comes out I'll reread Eve. I'm not saying I didn't enjoy Eve because I did, I just felt a sense of Deja Vu while reading the novel.Caleb is also a great character-very strong and exactly what Eve needs.