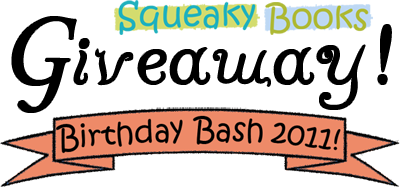 I'm hosting a contest as part of

Enna Isilee's Birthday Bash 2011

Presented by Squeaky Books
From August 22nd until September 22nd Enna Isilee at Squeaky Books is having a HUGE bash to celebrate her birthday! There's a giveaway nearly EVERY DAY, tons of author interviews, and guest posts from a bunch different YA book bloggers. And I get to host a contest!
I get to give away a copy of
Plain Kate by Erin Bow
! Entering is simple, just fill out the form (with optional bonus entries). You have until September 21st at 11:59 MST to enter. All winners will be announced on Enna Isilee's birthday (September 22nd) on Enna Isilee's blog (
Squeaky Books
). And today, Ennalee interviewed Erin at Squeaky Books. You should totally go check it out.
Want to know more about Plain Kate? Click here!
Without further ado, enter to win! Click below.

Open To US Only


Click here to enter