I've seen mini reviews around the blog-o-sphere several times but never have done one on my own blog. I feel that books deserve to have their own reviews-and that's where I still stand. But I wanted to review two highlander romance novels (which I loved). But since my blog is for young adult books-I'm going to put these two adult books in the same post.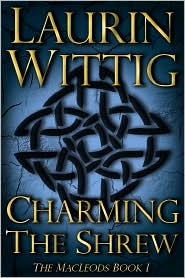 Charming the Shrew (The MacLeods Book 1) by Laurin Wittig
Publication Date: October 30, 2010
Versions: kindle
Summary (from amazon):
The story of the stormy MacLeods of Assynt begins...
From award-winning author Laurin Wittig comes a captivating story filled with the passion, intrigue and magic of historical Scotland--where Catriona MacLeod, a sharp-tongued beauty, meets her match in a disguised Tayg Munro, fabled warrior of the king, and the man who vows to tame her with the power of his love. Passion flames into a union to be tested again and again. As Cat and Tayg fight to thwart a scheme that could topple thrones and destroy their homeland, they discover a love that will take everything they have to give...
I loved this book! Catriona is such a great character-she's not one of those girls who are shy and stable. She's very interesting and doesn't care what other people think. The chemistry between her and Tayg is undeniable and I loved watching them grow together even though Tayg doesn't want to get married and Catriona thinks she's better than him. This is a must for any highlander romance lover.
Daring the Highlander (The MacLeods Book 2) by Laurin Wittig
Publication Date: November 18, 2010
Versions: kindle
Summary (from amazon):
The story of the stormy MacLeods of Assynt continues...
Ailig MacLeod must become the chief of his clan in order to prevent Robert the Bruce, king of Scotland, from killing his traitorous oldor brothers and setting his clan to fire and sword. But his father refuses to step aside to make Ailig chief, and few in the clan believe that's a problem.
Morainn MacRailt vows never to marry again. One bad marriage to a clan warrior who never loved her was enough. But when Ailig returns home with an impossible task he convinces her to help him set the castle to rights. As she helps him maneuver the treacherous undercurrents, and open distrust, of the clan, she discovers he is nothing like the warriors she has known before.
As they work together to save the castle and the clan, passion flares, but their love is put to the test by a dangerous and uncertain future...
Morainn was a very different character than Catriana. Morainn is a little shyer but very respectable and honest. Ailig is very strong and knows what he wants-and will go after it. Their connection is immediate from the start and watching their first kiss turn into true passion was amazing. I loved this second book as much as the first.