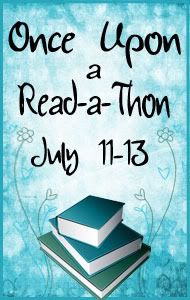 For this mini challenge, you have to pick two characters from separate books that would be a good match. Here is what I came up with:
John from Going Too Far by Jennifer Echols and Eddie from Fall For Anything by Courtney Summers
I think this couple would be perfect because they both have a lot of issues that they are dealing with. Eddie with her dad's suicide and John with "the bridge"-together they can support each other.
Day 2 Recap
I had a few errands to run so I didn't read as much as I wanted to. But I did finish another book. Here is the book I read on the second day:
Highland Captive by Hannah Howell
Day 1 Recap
So I didn't do as well as I would have liked and I didn't even read the books that were on my to-be-read list. But I read one! Here is the book I read on the first day:
Highland Barbarian by Hannah Howell
participated directly at Amber's blog-very fun!
Mini Challenge Question 1: What is your favorite type of myth (Greek, Roman, Egyptian, etc)?
Answer: I really like Roman mythology. It's always been interesting to me especially during school.
Mini Challenge Question 2: What is your favorite book with some type of mythology in it?
Answer: My favorite mythology book would have to be: Girl In The Arena by Lise Haines
STARTING POST
The Once Upon a Read-a-Thon has started (well it actually started seven hours ago) and I'm a little late with reading. I haven't read anything yet but I am hoping to read five books over the course of the next two days.
Here are the books I'm planning on reading:
1.) When Lightening Strikes by Meg Cabot
2.) Code Name Cassandra by Meg Cabot
3.) Safe House by Meg Cabot
4.) Sanctuary by Meg Cabot
5.) Missing You by Meg Cabot
I'm hoping to get through the whole (1-800 where are you) series by Meg Cabot. But we'll see...