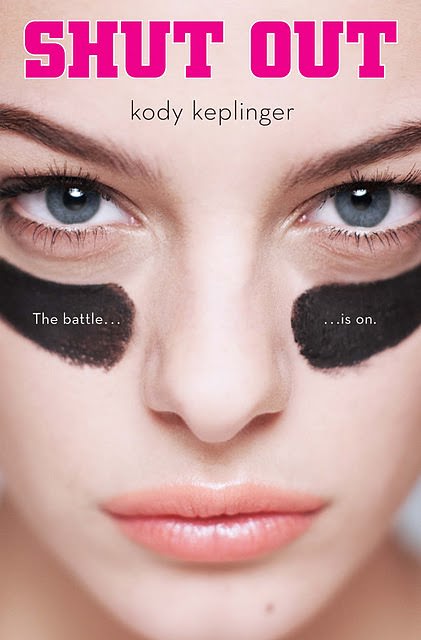 Shut Out by Kody Keplinger (ARC)
Publication Date: September 5, 2011
Versions: hardcover, kindle
Summary (from goodreads):
Most high school sports teams have rivalries with other schools. At Hamilton High, it's a civil war: the football team versus the soccer team. And for her part, Lissa is sick of it. Her quarterback boyfriend, Randy, is always ditching her to go pick a fight with the soccer team or to prank their locker room. And on three separate occasions Randy's car has been their locker room. And on three separate occasions Randy's car has been egged while he and Lissa were inside, making out. She is done competing with a bunch of sweaty boys for her own boyfriend's attention.
Lissa decides to end the rivalry once and for all: she and the other players' girlfriends go on a hookup strike. The boys won't get any action from them until the football and soccer teams make peace. What they don't count on is a new sort of rivalry: an impossible girls-against-boys showdown that hinges on who will cave to their libidos first. And Lissa never sees her own sexual tension with the leader of the boys, Cash Sterling, coming.
Let me just say that Shut Out is even better than The Duff. For 1.) this was such a surprise because I love The Duff by Kody Keplinger and didn't think anything could top it and 2.) it was such a joy to read. Lissa and Randy have been going out for a year and he still puts the school's rivalry before her. Lissa has had enough, so she gets all the athlete's girlfriends together to make a pact to not have sex until the rivalry ends. Eventually it actually works, and Lissa discovers something about Randy that she never would have if not for the pact. But then there's Cash, who works at the library with Lissa. There's so much sexual tension between them that Lissa starts getting a little unsure about being able to keep her promise.
Lissa is a great character and had many similarities with Bianca, from The Duff. But I'de have to say that Cash is my favorite character in Shut Out. He's so caring and understands Lissa more than she knows. They had a little "past" together which left Lissa very confused. But together they are perfect and it was so fun reading about them progressing. Randy, on the other hand, is a jerk.
Will I reread it?
Yes, I definitely will. Just like The Duff, this one will stay on my shelf for some time!