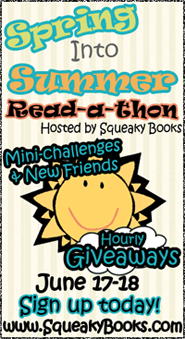 I really enjoy doing read-a-thons. I've only participated in a few during the school year but now that school is out (and summer is finally here) I will have a lot more time to read. And let me tell you-I am planning on reading a lot (well hopefully).
This read-a-thon is hosted by
SQUEAKY BOOKS
-you can press on the link and it will take you directly to the information on her site about the read-a-thon.
The Spring into Summer Read-a-Thon will start 8 AM MST on Friday June 17th and will end at 8 PM MST on Saturday June 18th. So if you count all those hours up, there will be thirty six hours to read until you drop. Sounds like fun, huh?
And if I persuade you to sign up, when filling out the form, if you put my blog name in saying that I'm the one that told you about the read-a-thon-we will both receive five extra entries to win a $25 Amazon.com gift card.
You only have one and a half day to sign up-so go over to
SQUEAKY BOOKS HERE.