Today I am hosting the wonderful author of Liberation on my blog for a virtual blog tour. So please welcome Maria Lucia. Liberation is the first book in the Andrusian Chronicles and I am excited to share with you a little bit about the book, and an interview from the author.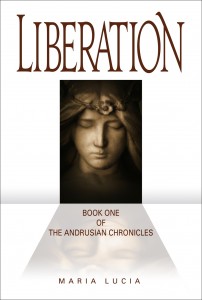 Liberation, Book One of the Andrusian Chronicles by Maria Lucia
Publication Date: April 13, 2010
Versions: paperback
Summary:
Amora Madre is content in the Smokey Mountains pursuing her teaching of love, things of the spirit, and metaphysics. Her childhood invisible playmates, Casey and Nia, are always by her side. But when soul mate Gabriel Ephraim enters her life, she is drawn into the heart of a horrific encounter with the spirit world in the skies over Washington D.C. Catapulted into service for the Intergalactic Supernatural Intelligence Agency, ISIA, the kindred lovers soon discover the existence of an invisible wickedness over the city, its galactic origins, and its evil designs for national and world events.
As part of an Andrusian galactic strike force, assembled to dismantle the malevolent legion's brutal matrix, Amora and Gabriel, seasoned and accomplished, embark on a dangerous adventure filled with Onaweyans, Scorpillians, historical figures, and a confrontation with the dark supernatural syndicate over the fate of the United States and the earth.
With journeys into dimensional worlds, interactions with fantastic characters and creatures, and revelation of the current struggle between the spiritual forces of good and evil, Liberation, draws the reader into a world where the spiritual dimensions and reality converge.
And then here is the interview:
Can you tell us a little bit about your book, Liberation: Book One of the Andrusian Chronicles?
Liberation is a uniquely written paranormal fantasy novel. It is about a woman name Amore Madre who is suddenly pulled away from her comfortable life in the mountains to Washington D.C. where she discovers that she has been chosen by an Intergalactic Supernatural intelligence Agency to help fight an evil supernatural syndicate affecting the nation and the planet. She is part of an Andrusian (the worlds of love) galactic strike force as is her soul mate Gabriel. Together they embark on a dangerous mission filled with dimensional travel, Onaweyans, historical figures and a confrontation with the dark syndicate. Liberation ties together actual devastating current events that have happened in our nation and in our world with real historical characters, and beautiful journeys through worlds of fantasy. The novel challenges the reader and makes them think. "Could this be true?"
2. Where did you come up with the idea for your book?
I was walking around downtown D.C. and scenes began flashing in my head about the story. The Andrusian race began calling me until I sat down to tell their story. I began writing scenes down and through the years that followed began piecing them together into a story. The inspiration defiantly came from living in D.C. and visiting the different sites often.
3. Do you base any of the characters in your book after yourself or close friends?
Creative people use all of the available information around them for their creations, what's happening in the world, what is happening in their lives, what they study or the trends that the masses are following. Most of all I feel that creative people often delve into themselves for the depth and enrichment of the characters. There is definitely a part of me in the book and of my friends.
4. What was your favorite scene or character to write about in this book?
I have two favorite scenes. The ending which I'm not going to discuss and save for the readers and the concert the Onaweyans give. They are by far my favorite characters and members of the story. Every time I would write about them I would cry deeply like the scene in the movie "Something's Gotta Give" where Diane Keaton just balls as she writes. Well that's how I've been about the Onaweyans, I've been a total mess since the day they came into the story. I love everything they represent, everything they say and everything they do.
5. Who or what has been your biggest inspiration throughout your writing process?
There have many things that have inspired me deeply during the writing of this novel. First and foremost has been the place where I have lived for the last nine years, Washington D.C. There is such a depth of history in its buildings and monuments. It's the old Washington that turned me on, the one at the very first of the nation's birth. I have also been greatly inspired by Dr. Michio Kaku and his experience of the universe and unlimited expansion of consciousness. To him, a reality filled with many dimensions and galactic worlds filled with races other than ours is allowable and probable. That's refreshing and great for my creativity.
6. What do you hope readers will take from reading Liberation: Book One of the Andrusian Chronicles?
I hope this book touches them deeply in places that they have forgotten about within themselves. I hope that it turns them on like it did me, and fires them up about its contents. But most of all I hope that it takes them on a journey that they love and will take with them forever. If they are truly fantasy lovers, who love the paranormal and a twist of science fiction it will.
Thanks so much, Maria, for doing the interview and visiting my blog. And if you guys want to buy the book off of Amazon, you can go here. Thanks again, Maria!