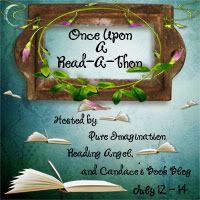 Angela (from
Reading Angel
), Candace (from
Candace's book blog
), and Lori (from
Pure Imagination
) are hosting a Read-a-Thon titled: Once Upon A Read-a-Thon. The name is so cute! This read a thon takes place from July 12th to July 14th which is a Monday, Tuesday, and Wednesday. You can read as little or as much as you want (and sleep is definitely recommended). I think it sounds like a blast so I am definitely looking forward to it and this is my first Read a Thon so I have no idea what I'm getting myself into.
To read more information on this read a thon you can go
here
. And to sign up for the read a thon, you can go
here
.
Please comment and tell me if you are participating because I will definitely cheer you on and hopefully we will cheer everyone on and try to make the best of this wonderful event. Thanks so much Angela, Candace, and Lori for hosting this and I know it's going to be great!