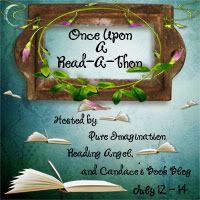 The first day of the Once Upon a Read-a-Thon is coming to an end. I read really early this morning (about two o'clock in the morning) and then I went to bed and woke up pretty late. I was gone for parts of the day and couldn't help but watch some of The Hills episodes. But I did read some books since this is of course a read a thon.
Here are the books I have read today:
1. Winter Longing by Tricia Mills
2. Songs For a Teenage Nomad by Kim Culbertson
So, how is the read a thon going for you? Everyone keep up the great work and I hope you have a great second day of the read a thon.