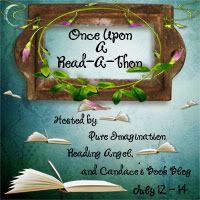 The Once Upon a Read-a-Thon was a great hit. I know a lot of people that participated and had a blast with it. So thank you so much
Lori
,
Candace
, and
Angel
for hosting this.
Throughout the read a thon, I didn't read as many books as I hoped I would but I still did plow through a couple that I needed to read either for ARC tours or review books. Here are the ones I have finished during the read-a-thon:
1. Winter Longing by Tricia Mills
2. Songs For a Teenage Nomad by Kim Culbertson
3. Girl v. Boy by Yvonne Collins and Sandy Rideout
4. Nightshade by Andrea Cremer
So overall, I think I did pretty well with reading. And since this was the first ever read a thon that I have done, I really look forward to participating in future read a thons. And since this was a three day process-I need a little break from blogging for today or maybe even two or three days.
How did you do on the read a thon?